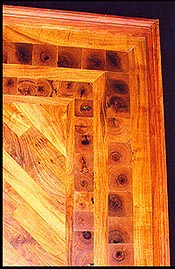 Mesquite Plank Flooring - 2", 3" and 5" wide
Endgrain Mesquite Flooring 3x3" and 4x4"
Herringbone Parquet Flooring
Mesquite has the lowest tangential and volumetric shrinkage of all listed hardwoods, making it ideal for flooring applications. Its combined side-hardness and density is excellent for long wear in high traffic areas.


South Texas Mesquite is one of our most popular exotic hardwoods, durable and beautiful, several styles available.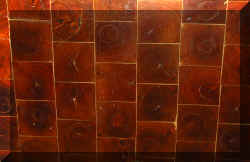 Endgrain Mesquite flooring with an oil-modified urethane finish.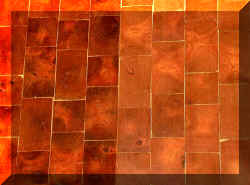 Endgrain Mesquite flooring with an oil finish (left) and a waterborn urethane finish (right)
Mesquite strip flooring with a waterborn urethane finish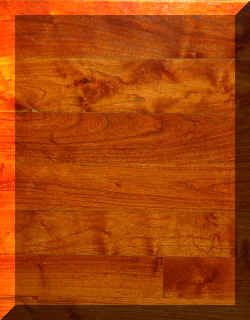 Mesquite strip flooring with an oil-modified urethane finish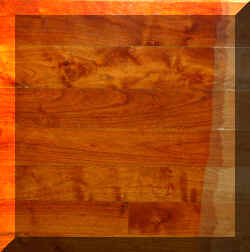 Mesquite strip flooring with an oil-modified urethane finish
The following table is a comparison of hardness and shrinkage values of mesquite and other common commercial species.
Species




Mesquite
White Oak
Pecan
Walnut
Cherry

Compression
parallel to
grain (psi)


8220
7440
7850
7580
7110

Compression
perpendicular
to grain (psi)


3360
1070
1720
1010
690

Side
hardness
(lb.)


2336
1360
1820
1010
950

Radial
shrink
(%)


2.2
5.6
4.9
5.5
3.7

Tangential shrink
(%)


2.6
10.5
8.9
7.8
7.1

Volumetric
shrink
(%)


4.7
16.3
13.6
12.8
11.5
Source: Texas Forest Products Lab - Texas Forest Service Best properties are in bold letters