Structural Insulated Panels
Buy a complete panelized home and get a free energy analysis report. This report will
properly size your HVAC unit and also give you a very close estimate of your monthly
energy usage. Remember, because of the tightness and efficiency of building with SIPs, it
is very important to downsize your unit compared to conventional building.
Because of the strength of the composite panel, long spans can be accomplished.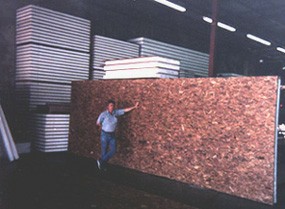 SIPs can be produced in 8' x 24' Panels
Why R-Control® from TEAM?
Here's why!!
Full in-house fabrication of all panels
Custom Cuts: Windows, Doors, Gables
Fully Staffed in-house CAD Design Layout Team
Panels are available in sizes up to 8' x 24'

On-site Technical Customer Service available
National Code Approval for all size panels BOCA, ICBO, SBCCI
Insect Resistant Perform Guard® Core EPS
Offer exclusive FireFinish™ Thermal Barrier
Ship anywhere in the USA!
Best pricing available
Thousands of successful projects nationwide